Jozey
Guitar/lead vocals
So check it out, this guy Jozey was not in Bang Tango, but Joe Leste asked him to be after playing guitar with them on stage. He was not in the Black Crowe's, but he still thinks he should be. He wasn't in Guns N Roses, but he had a dream he auditioned (it didn't go his way) and he did get to play with a few of the members on stage! What he HAS done is play guitar in a southern punk band, the Sixx Gunn Prophets, 90s underground metal legends Mob Scene, melodic hardcore heroes Cellbound, and Akron's bad boys of rock, L. A. Knights, as well as industrial metal act, The Broken X.
It was during his time with L.A. Knights that he caught the itch to sing a little, so he wrote a few tunes and put a lineup together, alas The Corruption was born! The aggressive yet hook filled music of bands like Brides Of Destruction, LA Guns, Beautiful Creatures, Izzy Stradlin, Gilbey Clarke, Buckcherry, Social Distortion, Motley Crue, and Kiss inspired these new tunes. Drawing inspiration from Mike Ness, Iggy Pop and John Corabi, he set about forming his own vocal style. Quickly realizing it matched his guitar style; aggressive, loud, and a little out of the norm…kind of like a great wrestling promo, push the limits, then rein them in with the hook!
Let's get real, What is important is this: Jozey lives rock 'n' roll; he can't stop rockin', hell, he had heart surgery and played a gig four weeks later! Like Huey said…"The Heart of Rock and Roll is still beating, in (Akron)".
His vision for the Corruption has been influenced by the members who have passed through the doors of his Guitar Lounge, and for that he will forever be grateful…but the roots, the backbone…they come from his imagination, his guitar and his soul. He also recently stated, this current lineup is special…camaraderie, brotherhood, and teamwork!
Here's Jozey in a nutshell, a non stop, constant ball of rock 'n' roll energy, a crazy mix of Jimmy Page, George Lynch, Warren Demartini, Jake E. Lee, Slash and Zakk Wylde mixed with Mike Ness, Izzy Stradlin, Josh Todd, John Corabi and London Legrand. Somewhere between that place where punk meets glam meets rock meets outlaw…lives the Rubber City Outlaw!
For those who care, Jozey uses Marshall Amps into a Genz Benz 2×12 cabinet currently on stage, but used Custom Audio Mutation custom amps (The Wave of The Future!) on the album, along with Les Pauls, an EVH Kramer Frankenstein copy, a Telecaster and more to record this album. His main stage axes are a white Les Paul Studio, an Epiphone Gold Top '56 Les Paul reissue and a black Gibson Flying V. He also uses Corona Extra, good bourbon, Fireball, Tito's, and margaritas to fuel him in the studio and on stage!
johnny lexxus
guitar/backing vocals
A long time ago in a galaxy far far away, inspired by the riffs and sexsational solos of The Darkness and Slash, Little Lexus locked himself away and learned how to play guitar. Originally wielding a Squier Stratocaster, Lexus slaved over tabs of his favorite rock bands, emerging eventually from his room as a true power-chord master. After selling his dirt bike and using the funds to buy "Mel" his signature yellow Gibson Les Paul, he continued his journey. Together, Little Lexus and Mel the Gibson embarked on my late-night shred sessions together, finely tuning his chops to one day aspire to be amongst the greats.
Fast forward about 18 years and Lexus is swept up by local Akron favorites "Jozey and the Corruption", where he is awarded his second X, officially becoming Johnny Lexxus – with two X's. Together, Johnny and Mel hold down The Corruptions powerful rhythm section, allowing the civilians of Akron to enjoy every show that comes their way.
Joey Fuego
drums/backing vocals
Raised on a tropical island in the Caribbean, where he learn the percussive art of Afro-Latino music at a young age only later to become interested in hard rock and heavy metal music. Influenced by bands like Van Halen, Metallica, Slayer, Megadeth and Iron Maiden to name a few, I took to playing guitar in high school where I played in a couple of bands. My travels would take me to Los Angeles where I was introduced to the SoCal Punk scene which included band like Social Distortion and Bad Religion.
Picked up playing drums later in life because its illegal to beat up on people. He has been a member of a few local bands and currently with Jozey & the Corruption. Gear he currently uses: Mapex Drums, Remo and Aquarian drumheads, Soultone Cymbals, Tama and Gilbraltar Hardware, Pro Mark sticks and Roc N Soc drum throne.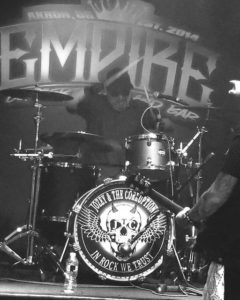 Saint Jamie Baisden
Bass/backing vocals
Jamie Baisden is the grizzly, battle-scarred bass player for Jozey and the Corruption. His musical roots began in his childhood influenced by his parents' appreciation for outlaw country and southern rock, later branching out into rock, early punk, metal, and hardcore music. Jamie first picked up a bass guitar at 14 years old during a time when he was often listening to artists such as Black Sabbath, Iron Maiden, Motorhead, GBH, Cro-Mags, and The Exploited. Soon after he began playing in garage punk bands with his friends. Into his twenties he was heavily influenced by local bands such as Purgatory, Destructor, Breaker, and the Spud Monsters, and became actively involved in the Cleveland metal scene.
Jamie began to develop a bass style and tone of his own infusing the fundamental music of his childhood with the spirit and intensity of rock, punk, and metal music. Owning a badass style and unique bass tone, music continues to be a core component of who Jamie is and he plans to "Keep on truckin", and in the true nature of a bass player keep it low.